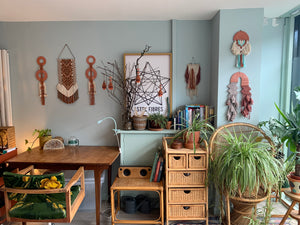 handcrafted in belfast
Macramé handcrafted in Belfast. The craft practice of macramé is a slow journey and macramé artist Alison Pascoe is passionate about its heritage and innovation. Explore the ASTRL Fibres collection of considered macramé designs for modern spaces.
macramé (mah - kra - may)
Macramé is the art of knotting, a heritage craft with ancient origins and a popularity that has spanned the globe. The ASTRL Fibres studio is a workshop, showroom and learning space dedicated to the art of macramé and heritage craft skills. Situated in East Belfast, the serene and light filled studio provides a space to share a passion for the craft, offering in person workshops and bespoke commission consultations.