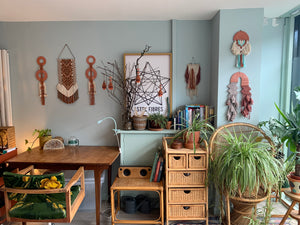 handcrafted macramé
The craft practice of macramé is a slow journey and macramé artist Alison Pascoe is passionate about its heritage and innovation. Explore the ASTRL Fibres collection of considered macramé designs for modern spaces.
A short history of Macramé
The origin of Macramé (mah - kra - may) is attributed to 13th century Arabic weavers, using ornamental knots to finish the loose ends of hand woven textiles. The root word for macramé in Arabic, migramah, translates to fringe. Knot work has even earlier origins; decorative knot-tying can be traced back to 3rd century China and ceremonial textiles and knot adorned costumes have been documented in ancient Babylon and Assyria. While it's hard to identify the very first Macramé ever made, thanks to those 13th century Arabic Artisans the craft slowly spread throughout Europe and eventually became a common pastime for sailors. Sailors played a substantial role in sharing the functional practice worldwide. Knots have many practical uses but decorative knot tying kept hands and minds occupied during long voyages and this knot work could be sold and bartered in ports around the world. Macramé remained a popular craft, first in the 17th century English Court of Queen Mary and in the Victorian era with the popular manual Sylvia's Book of Macramé Lace (1882) describing it as a "exceedingly fashionable occupation". During the Victorian era it was also known as McNamara's Lace. The craft slowly fell out of favour until it's famed re-emergence in the 1970's when it again became a popular past-time, adorning homes with plant hangers and wall hangings. In modern times the art of Macramé has undergone another resurgence in popularity and can be found everywhere from high end fashion, interior design, to artists and craft enthusiasts around the world. The longevity of Macramé, a heritage craft technique passed down through the generations, is perhaps in the appreciation of a skill that can only be made by hand and offers endless possibilities with it's continued innovation.